Adapt, Reskill, Succeed. Thriving in the New Era of Work
The workplace is undergoing rapid transformation, driven by technological advances like automation, artificial intelligence, and machine learning. While some fear this will lead to widespread job losses, the reality is more nuanced.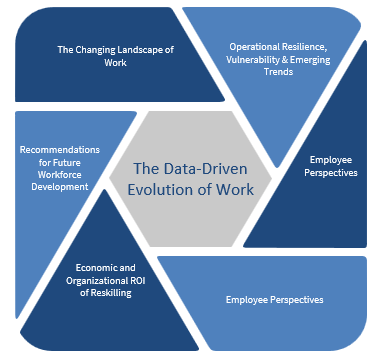 Table of Contents
The workplace is transforming rapidly, driven by technological advances like automation, artificial intelligence, and machine learning. While some fear this will lead to widespread job losses, the reality is more nuanced. Below is a summary of some key insights exploring the major trends shaping the future of work. For the full article with all the insights, please download our 'The Future of Work in a Data-Driven Economy' paper.
Automation Will Reshape Many Jobs, But Not Eliminate Them
Automation technologies can now handle many routine physical and cognitive tasks, leading some to predict massive job losses. However, looking at current data on job growth, this doom and gloom scenario has not played out.
Key stats:
Automation could displace 800 million workers worldwide by 2030. However, it is likely to mainly affect predictable physical work, data collection, and processing tasks.
While 85 million jobs may be displaced by 2027, 69 million new roles may emerge. Job losses and gains are projected to happen simultaneously.
Occupations thought to be at high risk of automation, like radiologists and computer programmers, have not seen projected declines so far.
Automation will significantly change how work gets done and the skills required, but it is not expected to eliminate entire occupations altogether.
Workers Are Willing to Retrain but Need More Support
Workers generally understand that their fields are transforming and are open to retraining. But companies have not yet bridged the gap between worker willingness and access to effective upskilling programs.
Key Stats:
68% of workers are aware of industry disruptions and willing to learn new skills.
Just 24% of companies connect retraining programs to their business strategies.
The half-life of skills is now less than 5 years in many fields.
Both workers and employers acknowledge retraining is essential. But companies need more strategic alignment and infrastructure to upskill at the pace required.
Retraining Delivers Tangible Business Benefits
Beyond maintaining a skilled workforce, investments in retraining deliver measurable returns across productivity, efficiency, employee retention and more.
Key Stats:
Reskilling could add $6.5 trillion to global GDP by 2030 by closing skills gaps.
Retraining improved productivity 5x for one task at BNP Paribas Cardif.
IBM found that retrained employees stay at the company 42% longer.
75% of executives reported moderate or significant benefits across key metrics from retraining programs.
The ROI from reskilling is multi-faceted, from hard cost savings to softer talent retention benefits. Companies that tackle quantifying impact see major upside.
Use Both Soft and Hard Metrics to Track Reskilling Success
Many organizations rely on soft metrics like engagement to measure retraining programs. But combining these with hard business impact data presents a more complete picture.
Key Stats:
75% of companies use soft metrics like satisfaction scores to track retraining.
45% also measure hard metrics like productivity. But only 10% connect training to business KPIs.
Here are some recommendations on how organizations can track upskilling and reskilling:
Start by aligning on the key business goals training aims to impact.
Develop metrics like productivity, efficiency, error rate, and sales or profit gains.
Also measure soft skills, retention, and employee feedback.
Partner with leadership to agree on metrics and data needed beforehand.
Leading retraining programs take a hard data-driven approach while still valuing soft skills gains.
Focus Retraining on In-Demand Digital Skills
Technical skills like data analytics, digital marketing, software development, and UX design are growing across virtually every industry. Retraining should prioritize these ubiquitous in-demand skills, along with forever skills like data literacy and data-informed decision-making.
Key Stats:
Demand for data analytics skills is projected to grow by 331% by 2030.
89% of executives surveyed expect rising demand for digital marketing skills.
67% anticipate the increased need for specialized sales software skills like CRM.
50% predict the growing demand for data visualization abilities.
Digital skills and forever skills like data literacy and data-informed decision-making are the common thread running through virtually every retraining program. Prioritizing these foundational technical abilities unlocks benefits across roles.
Conclusion
Automation will continue disrupting roles and requiring new skills, but not make human workers obsolete. Organizations that strategically retrain and upskill workers will reap productivity, innovation, and retention gains. By taking an approach backed by both soft skills and hard data, and focusing on in-demand digital abilities, organizations can build workforces ready for the new normal.
The future of work remains uncertain in many ways. However, investing in human capital through retraining emerges as a clear path to maintaining competitive advantage. Workers who stay adaptable and open to continuous learning will also access expanding opportunities on the horizon.
Looking for More Insights on the Future of Work?
This article summarized key data and recommendations on forces shaping the future of work and the economy.  To summarize the key insights and recommendations, we've created a Quick Guide.
For those seeking a more comprehensive analysis, the full paper provides strategies, best practices, and examples of workforce adaptation strategies.  It offers a comprehensive look at the intersection of the future of work and the rising influence of data. It offers balanced perspectives, touching on the responsibilities and roles of workers, organizations, educators, and policymakers, and provides a foundation for actionable insights.
This detailed guide provides frameworks, case studies, and actionable advice across topics like:
Digital transformation of the workforce driven by data, analytics, and Artificial Intelligence.
The shift to a data-driven economy and current technology trends.
Implications for workers, organizations, educators, and governments.
Evolving skillsets and demand for data literacy.
Responsible data usage frameworks and ethical considerations.
Recommendations for workers, organizations, educators, and governments.
Turning Data Into Wisdom Newsletter
Join the newsletter to receive the latest updates in your inbox.